← Back
Top Features of the 2021 Ford Explorer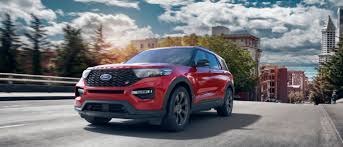 The 2021 Ford Explorer is ranked among the most powerful mid-size SUVs in the automobile industry. XLT models feature a turbocharged 2.3-liter four-cylinder engine, Trizone automatic climate control, a rear-wheel drive, and automated emergency braking.
If you are shopping for an ideal car to suit all sorts of roads, then the explorer is an ideal choice. Besides advanced tech features, the limited hybrid powertrain sporty ST models feature twin-turbo v6. Overall, the mid-size SUV is a great car.
Safety features
The ford explorer comes with advanced safety features that guarantee your safety on the road. Some of the notable features include;
Lane-keeping assist and standard lane departure
Rear cross-traffic alert and blind-spot monitoring
Automated emergency braking and forward-collision warning.
Engine performance
Limited trims and XLt models feature a 300 hp turbocharged 2.3-liter four-cylinder engine. On the other hand, the platinum model comes with a 365 hp twin-turbocharged 3.0 liter V6. However, the sporty explorer St uses a 400 hp version of the same engine.
Typically, the hybrid explorer pairs a 3.3 liter V6, engine with an electric motor that produces a powerful horsepower output of 318. The explorer is ideal to drive on all rear-wheel drive platforms though all-wheel drive is optional. The Explorer ST is a classic athletic car and the powerful engine makes it a real deal in the SUV performance.
Fuel consumption
Due to its powerful engine features, the 2021 Ford explorer SUVs have varied fuel consumption rates across various models. In this case, the rear-drive hybrid model is rated among the most economical with estimated fuel consumption of 27mpg city and 29mpg on the highway.
Interior and comfort
The 2021 Ford Explorer SUVs feature a stylish well-designed interior. Having been built for an active lifestyle, it is spacious enough to accommodate sports equipment, the kids, camping gear, or anything else you need for adventure.